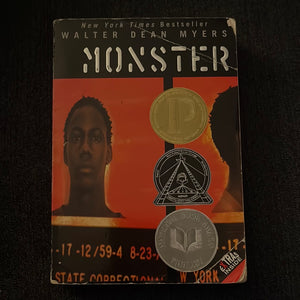 Monster by Walter Dean Myers
He's young. He's black. And sixteen-year-old Steve Harmon is on trial for murder.
A Harlem drugstore owner has been shot and killed during a robbery, and word is that Steve served as the lookout. Guilty or innocent, Steve has become a pawn in the system. He's been called a monster, and worse.
As a way of coping with the horrific events that entangle him, Steve, an amateur filmmaker, decides to transcribe his trial into a movie script. But despite his efforts, reality is blurred until he can no longer tell who he is or what is the truth.
A New York Times bestseller and the first recipient of the Michael L. Printz award, Monster is Walter Dean Myers at his riveting best.