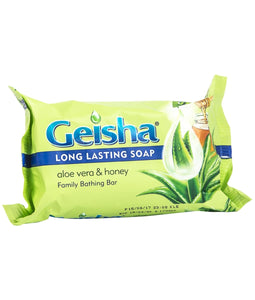 Geisha Bar Soap with Aloe and Honey
Regular price $3.99 $5.99 Sale
Geisha soaps are made through intensive research and care to deliver expertly refined soaps. The new soaps are enriched with natural ingredients, aromatic oils and fragrances to make your bath time more than just a cleaning experience. Geisha soaps are rich and creamy, lather well and ideal for your whole family.
Geisha Green contains Aloe and Herbs. Herbs are important in the prevention and treatment of ailments and skin diseases thus contributing to healthy and rejuvenated skin. Aloe is an anti-inflammatory ingredient that soothes, calms and moisturizes the skin.
8 oz bar loaded with hydrating fatty acids, our Coconut Oil soap bar is your first line of defense against a dull, tired-looking complexion! By maintaining your skin's natural moisture levels, our rich formula tones, brightens and leaves your skin full of life.
Natural and Effective: Made in the USA and featuring a 100% vegetable base. It's sulfate, paraben, cruelty and artificial color free, contains natural ingredients, and is certified by the Rainforest Alliance.
Cleanses
Nourishes
Protects
Refreshes your skin